I've spent three decades with the characters of The Lazare Family Saga. They are dear to me, and it's long bothered me that I had only stock photos to represent my book children visually. When you're working with existing images, nuance and individuality are lost.
Then a few months ago, an author friend—the marvelous Susie Murphy—shared character art she'd commissioned of her central couple, Bridget and Cormac. Susie's beautiful, unique book babies, captured in a digital painting! I loved it!
I was also envious. Could I do the same: commission my own character art? It seemed an extravagance. But hey, as an indie author, I could count the artwork as a business expense and try it as a marketing image. I investigated the artist Susie had used and several others. (Tip: Artists tend to follow other artists on social media.) I found many stunning talents. However, most of these artists were currently closed to commissions, and most of them focused on fantasy characters.
The artist Susie had chosen ended up being the best fit for me too. Her name is Julia Jacob Mori, a.k.a. @artbyjuliajm, and she's Brazilian. Her Instagram profile describes her as "Obsessed with history and cats." Julia is actually writing her own interracial love stories set in the 1800s, and she understands 19th-century undergarments. A kindred spirit indeed! Better yet, Julia had space in her calendar, her price was reasonable, and she agreed to work with me.
I sent Julia oodles of information about my characters Joseph and Tessa, and Julia created this dreamy double portrait: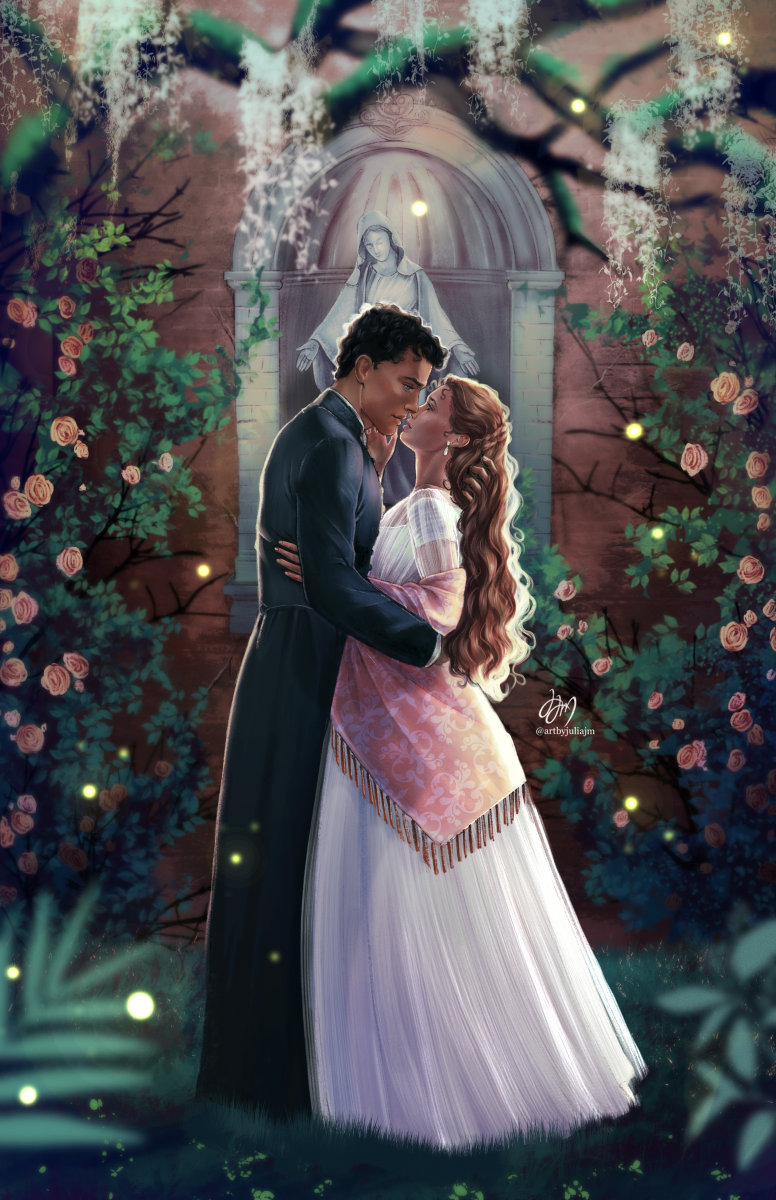 Julia's digital painting doesn't literally depict a scene from Necessary Sins or Lost Saints because Joseph never visits Tessa's garden while wearing his soutane (cassock). I asked Julia to put one on him so that his priesthood would be apparent without a caption.
To reinforce my characters' Catholicism, Julia included a statue of the Virgin Mary. Julia and I both felt wicked, having a priest canoodling with a woman in front of such a statue. But to my eyes, the final effect isn't wicked at all. Do you think the Virgin Mary is grieving for the forbidden lovers…or blessing them?
The fireflies were Julia's idea, and I love them. They add to the atmosphere, as does the oak limb draped in Spanish moss. Julia beautifully captured the emotion of Joseph and Tessa's secret meeting.
I loved Julia's artwork of Joseph and Tessa so much, I decided I wanted her to illustrate a scene with Clare and Ésh as well. But her commission schedule was already booked up for months! I resigned myself to delayed gratification. And then, one of her commissions cancelled! She had an open spot and asked me if I was interested. I grabbed it!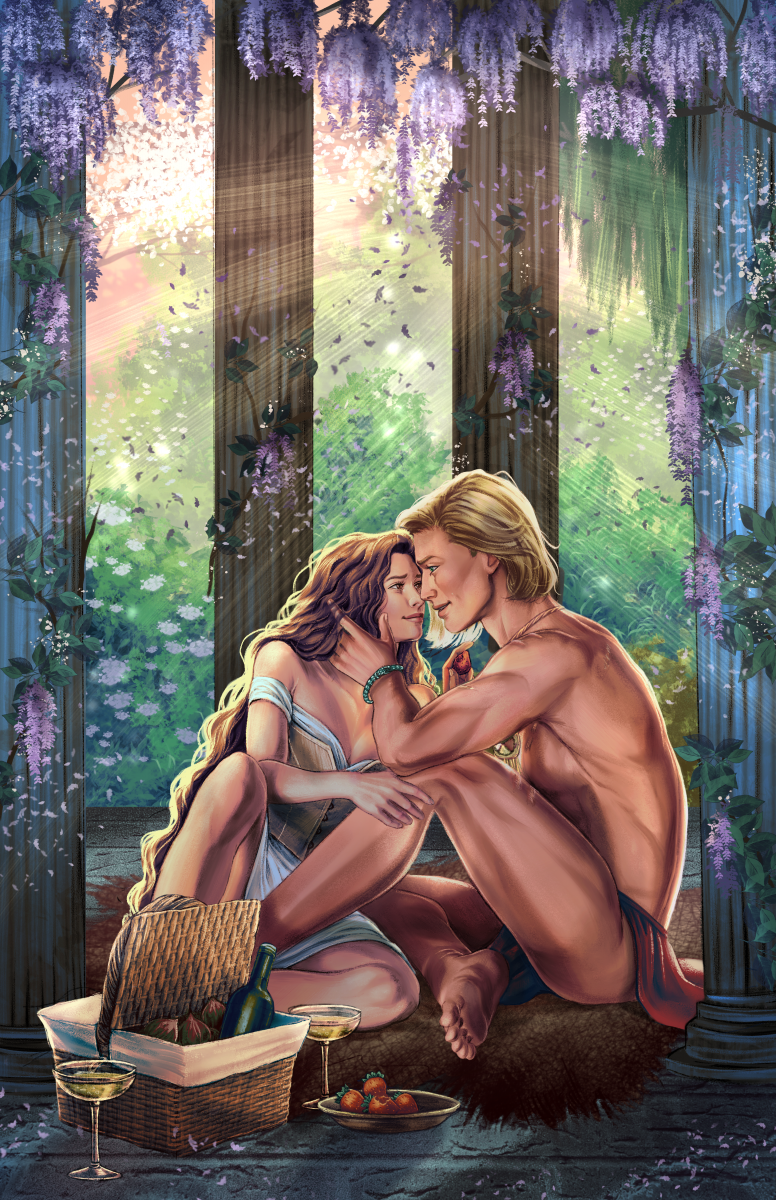 Next, Julia created this intimate portrait of "the next generation," Clare and Ésh. My readers should recognize this as the wisteria pergola on Sullivan's Island and Clare and Ésh's naked picnic…except Julia added a few bits of clothing. 😉
Firstly, we wanted to convey the time period: the 19th century. Secondly, we wanted to convey Clare and Ésh's very different backgrounds: she's a Southern belle, and he's lived almost all his life with the Cheyenne Indians. To do that, we needed some clothes—and this version is more Safe for Work.
Julia gave Ésh so many marvelous details from my story: his scars, his ouroboros bracelet, and the medicine pouch around his neck. But I think my favorite part of this image is the expression on Clare's face—clearly a woman in love. Strawberries have nothing on Ésh!
Even better, Julia shared with me her process videos: how she created these digital paintings using the Procreate app. The time lapses are fascinating to watch! Take a peek:
What do you think of Julia's art depicting my characters? Do they look how you imagined them? Should I have Julia paint anyone else?