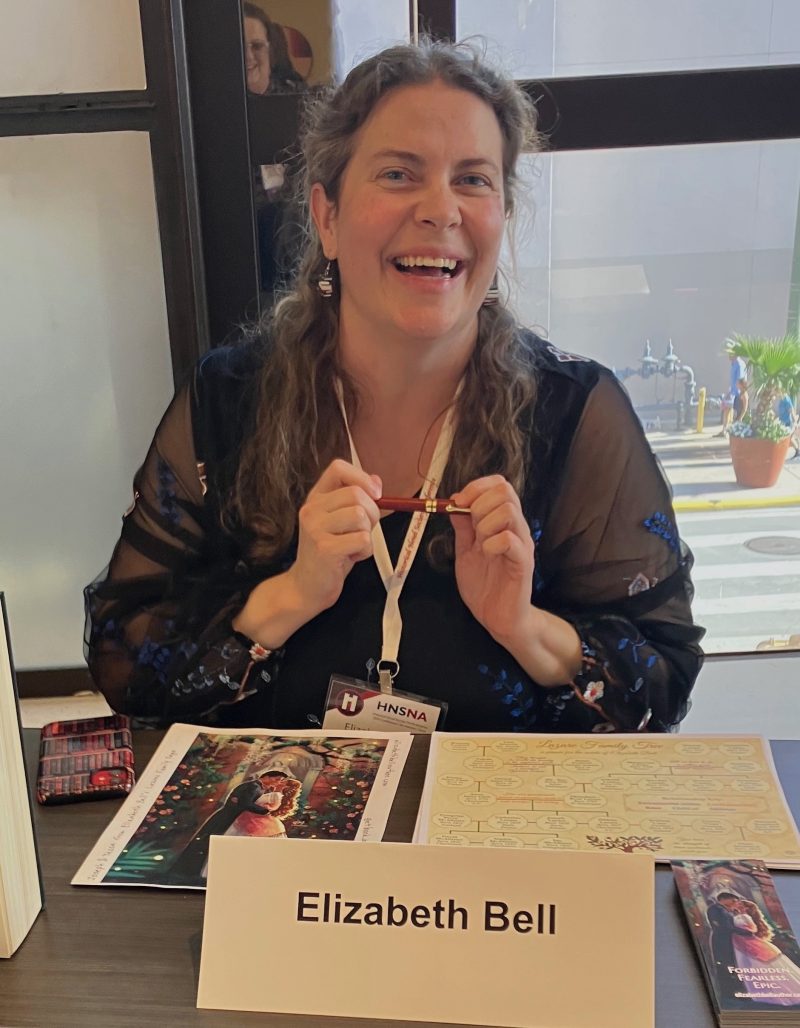 Elizabeth Bell has been writing stories since the second grade. At the age of fourteen, she chose a pen name and vowed to become a published author. That same year, she began the Lazare Family Saga. New generations and forgotten corners of history kept demanding attention, and the saga became four epic novels. After three decades of research and revision, Elizabeth decided she'd done them justice.
Even as an undergraduate, Elizabeth believed that the best fiction not only entertains but also enlightens. In the Johnston Center for Integrative Studies at the University of Redlands, she was able to design her own major, which she titled "Responsible Fiction: Creative Writing, History, and Culture."
After earning her Master of Fine Arts in Creative Writing at George Mason University, Elizabeth realized she would have to return her two hundred library books. She cleverly found a job in the university library, where she works to this day.
Elizabeth grew up in the shadow of the Rocky Mountains, which inspired the Western parts of the Lazare Family Saga. She now lives near the Library of Congress, the Smithsonian, and numerous historic house museums, which she has visited many times in the course of her research. She has picked the brains of historical interpreters at Colonial Williamsburg and Civil War reenactments, attended Masses in Latin, and made pilgrimages to Catholic sites across the Eastern seaboard. Most memorable of all were her research trips to her settings: the South Carolina Lowcountry as well as Independence Rock and Fort Laramie in present-day Wyoming.
Elizabeth was a Finalist for the James Jones First Novel Fellowship, a Finalist in the Foreword Indies Book of the Year Awards, and won Second Place in the Maggie Awards for Excellence. The opening pages of her debut novel, Necessary Sins, were published in the inaugural issue of the literary journal Embark. Her second and third novels, Lost Saints and Native Stranger, were selected as Editors' Choices in the Historical Novels Review.
Elizabeth is an active member of the Historical Novel Society. She loves chatting with fellow readers, writers, and history buffs. Explore the visual world of her Lazare Family Saga on Pinterest. Follow her on Facebook, Instagram, Goodreads, or BookBub.
For interviews with Elizabeth and her guest posts on other websites, click here.